Bottling and secondary fermentation, in order to transform still wine to sparkling wine, hence the name "prise de mousse ", literally "capturing the sparkle". We add the "liqueur de tirage", still Champagne mixed with cane sugar and yeasts. Once filled, the bottles are hermatically sealed with a stopper known as a "bidule", held in place by a wire metal cap. The bottles are then transferred to the cellar and stacked "sur lattes" : horizontally, row upon row. Inside the bottle, the wine undergoes a second fermentation...!
Second tillage of the season in our vineyard. The goal is to aerate and unpack our soils to make them alive and favors a deepest root system of our vinestocks !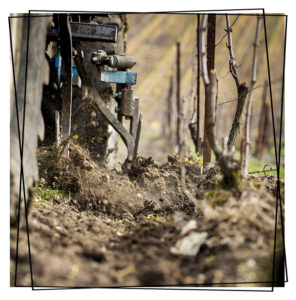 LET'S COOK WITH
SYLVAIN SUTY

!
First episode of a serie of meetings between our  cuvées and some inspired dishes created by chefs who trust us✨
We propose you to share a gourmet moment with Sylvain Suty, Chef at La Maison Suty in Domans, a little village in the Marne Valley. It's about foie gras and our cuvée "ADN de Foudre Chardonnay"… Cheers ! ✨🍾
Tying-up is in progress in our vineyard, here in our parcel of Pinot Noir ☀️ The goal : maintain the vegetation between two wires. Several passages are necessary to place all the branches between these wires, because they don't grow at the same rate  ✨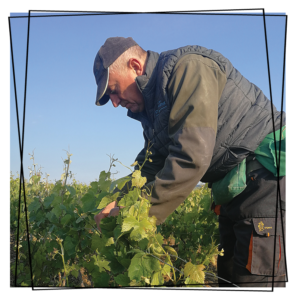 On the estate, we use the phytotherapy principle… Indeed, each year we pick some wild plants in order to realize several preparations during all the season, to take care of our vineayrd thanks to the nature. At spring, we pick some nettles, common horsetail and comfrey. Few weeks later, during summer, we pick some burdock and meadowsweet. Each collect is put out to dry naturally, before being used in decoction, infusion ou maceration, in the following months.
Bottling time for our 3 Ratafias (One with Meunier, one with Pinot Noir and one with Chardonnay) Based on 2 different harvests : 2017 + 2018 ✨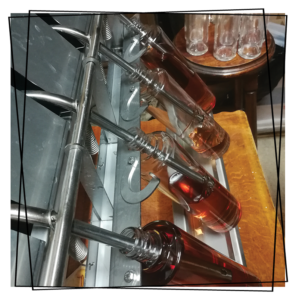 During the commitment we would like to answer you about the estate, so we offer you 6 Q&A, 6 podcasts of 1 minute to learn more about our methods and the estate !
1/ What is the "alternative methods" ?
2/ What is your philosophy on the estate ?
3/ What are the challenges when we work  with single varietal ?
4/ Since when and why did we choose to work with the lunar calendar  ?
5/ Why did we choose to work a Champagne range 100% Meunier ?
6 / What are our sources of inspirations ?