OUR HISTORY AND OUR VINEYARD

#transmit #listen #learn
Welcome to the Christophe Mignon's universe.
We make continue with passion and commitment the Champagne know-how and the family traditions since 1882 ...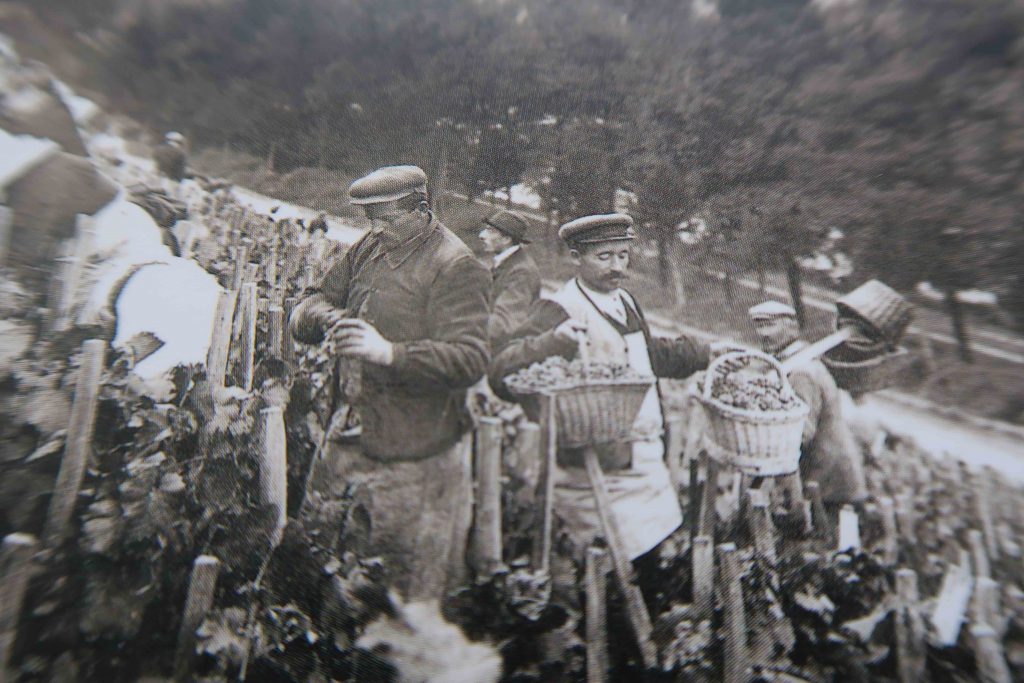 Édouard Moutardier, farmers' son married Marie Lanne, winegrowers' daughter. From then on, both wrote the first pages of the familiy estate. Indeed, they gave life to the first  generation , what would become a long line of passionnate winemakers…
Eugénie Moutardier, Marie and Édouard's daughter, married Eugène Prudhomme, Champagne winemaker too. They united their lands to work together a vineyard of one hectare and a half, and start their first Champagne sales. This visionary couple, was attached to his terroir, quickly obtained many awards for their Champagne red wines, at the Wines Market Exhibition in Epernay, from 1932…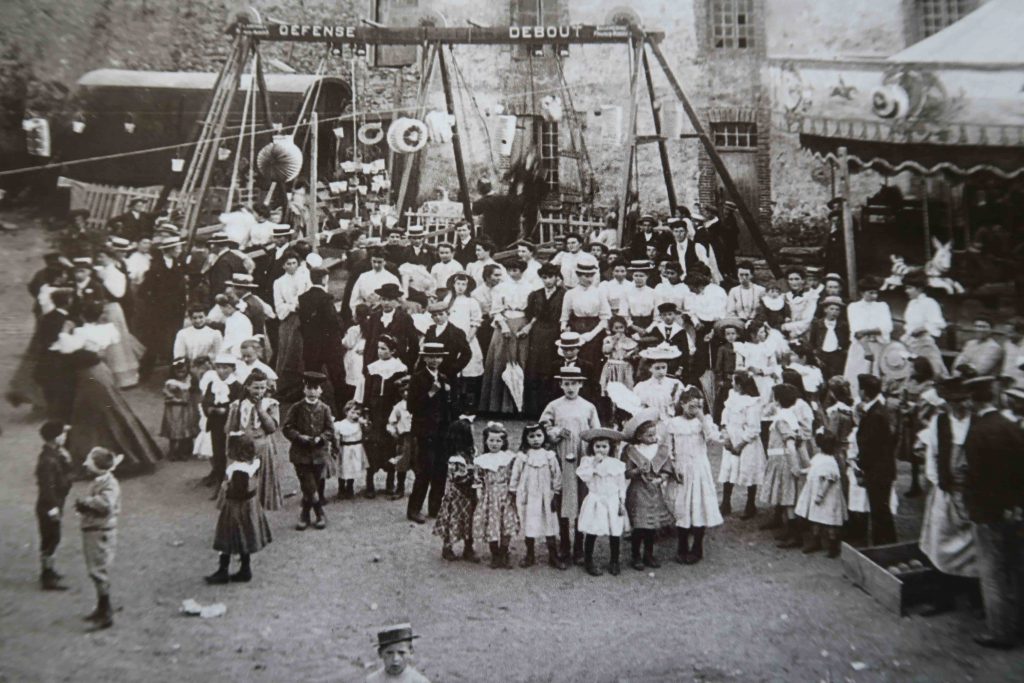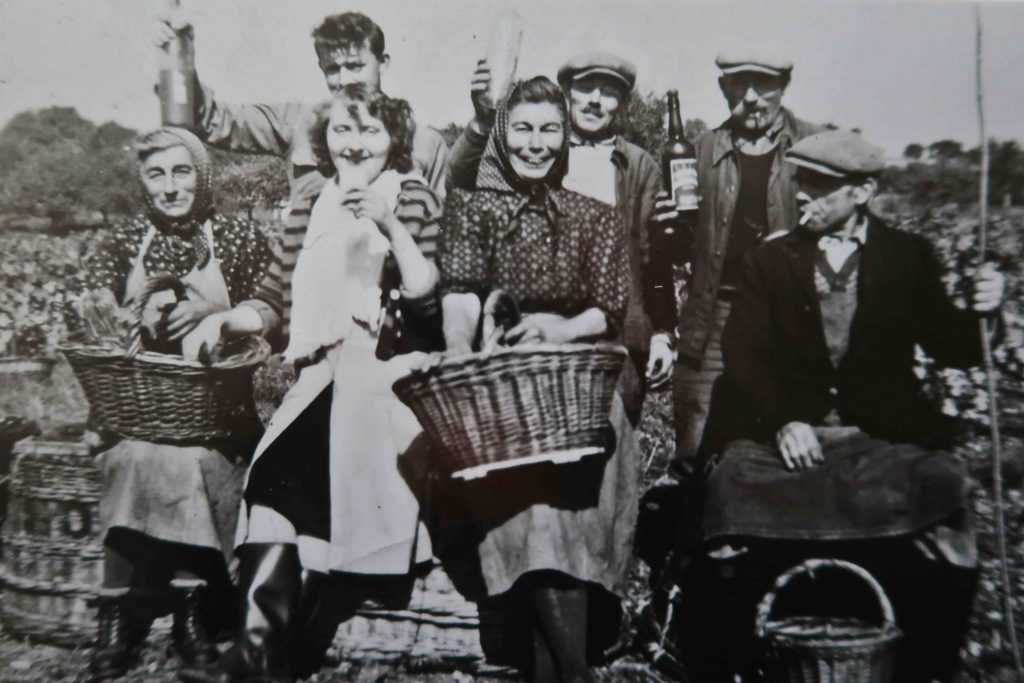 Raymonde Prudhomme,  Christophe's grandmother on his mother side, married Lucien Salot, and continued the family's winegrowing tradition. Happy to be able to make the activity prosper, they acquired new vine's parcels at Le Breuil. They were the first to give importance to labeling on their bottles, by choosing carefully modern labels to differentiate themselves from the others winemakers …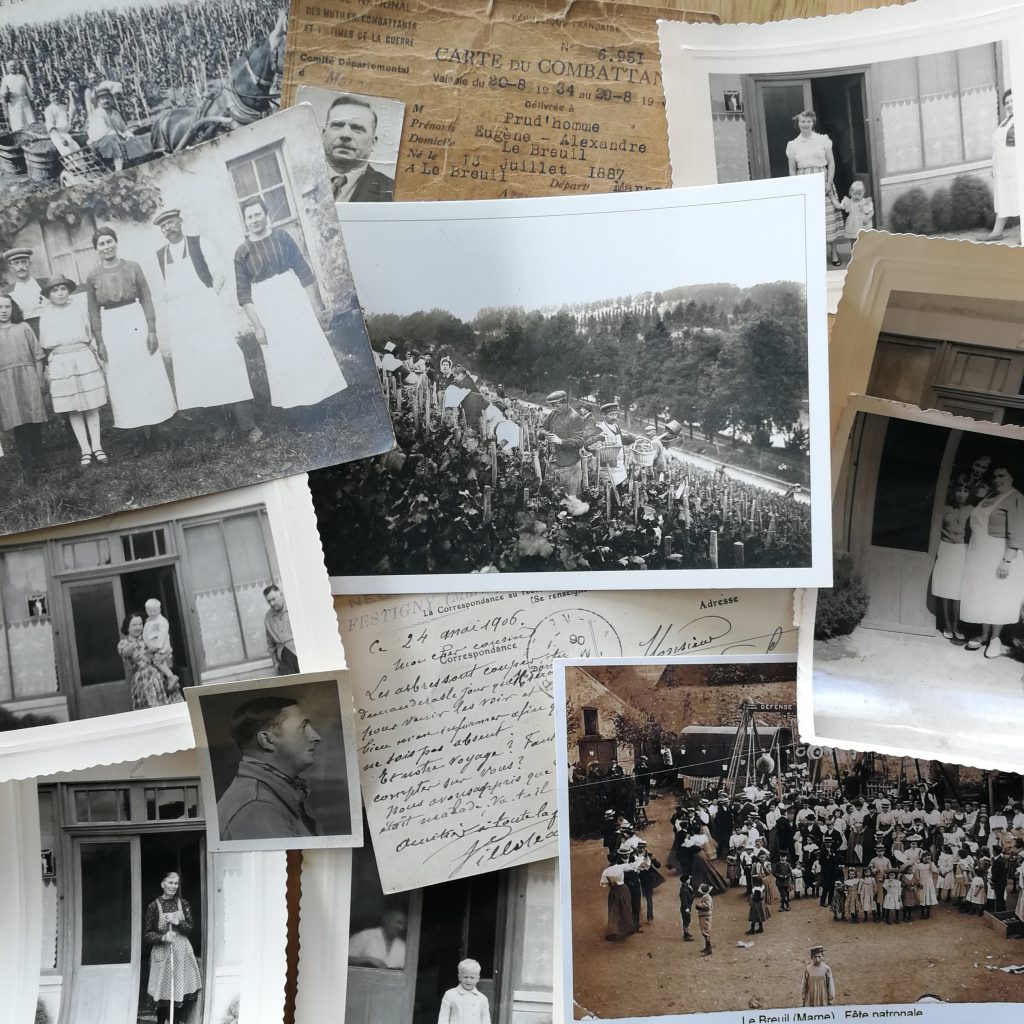 Josiane Salot, Raymonde and Lucien's daughter, married Gilbert Mignon, and gave birth to Christophe, his two brothers and his sister. This couple created a Champagne House called Gilbert Mignon which he had the pleasure to grow until 2002. He passed on his passion for the terroir to Christophe, who was to become the fifth generation of this winemakers' family…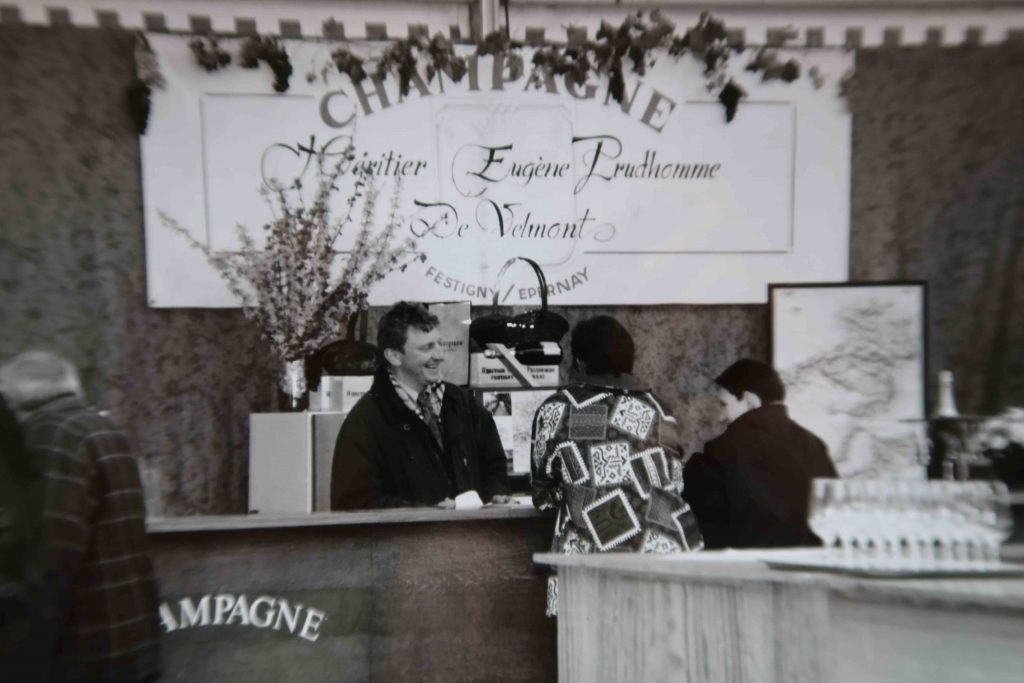 After having created in the beginning, a first brand called Héritier Eugène Prudhomme, in homage to his great grandfather ; Christophe wanted to assert his own identity through a brand that would bear his name… He made the choice to settle in La Boulonnerie and created the Christophe Mignon's Domain…
that Laurence, Christophe's wife, joined the domain. From then on, she actively participates to the development of the House's export business. She had in charge of the sales departement and she always supports Christophe in his choice to work alongside nature, by and for nature. They make the domain known by enthusiastically promoting their values and highlighting their love of the terroir with their Champagnes cuvees 100% Meunier.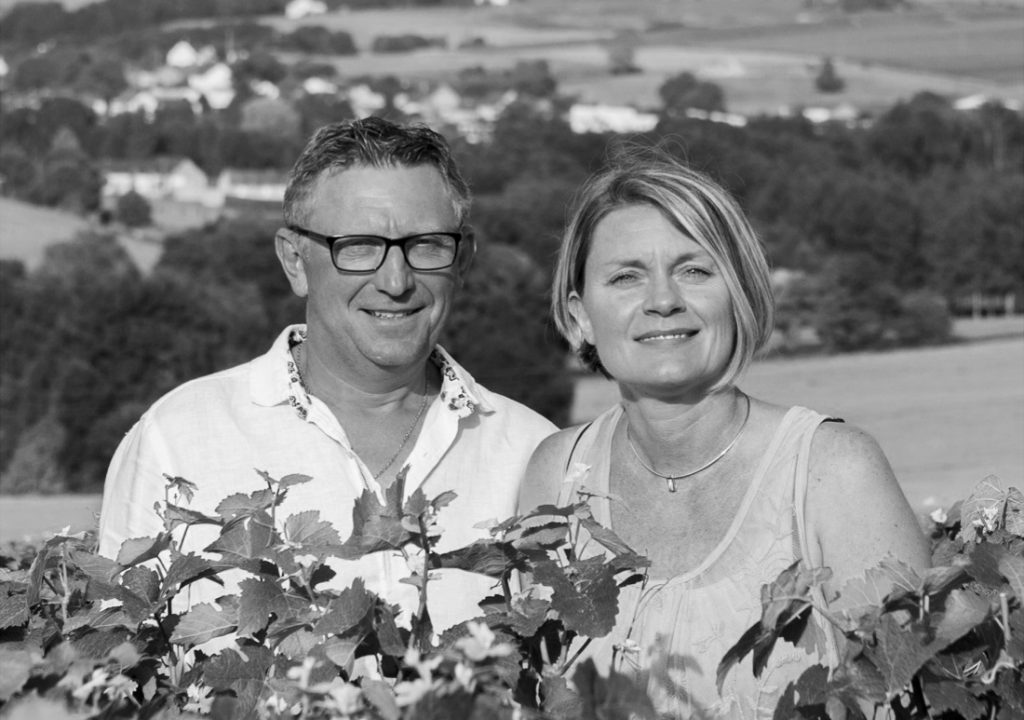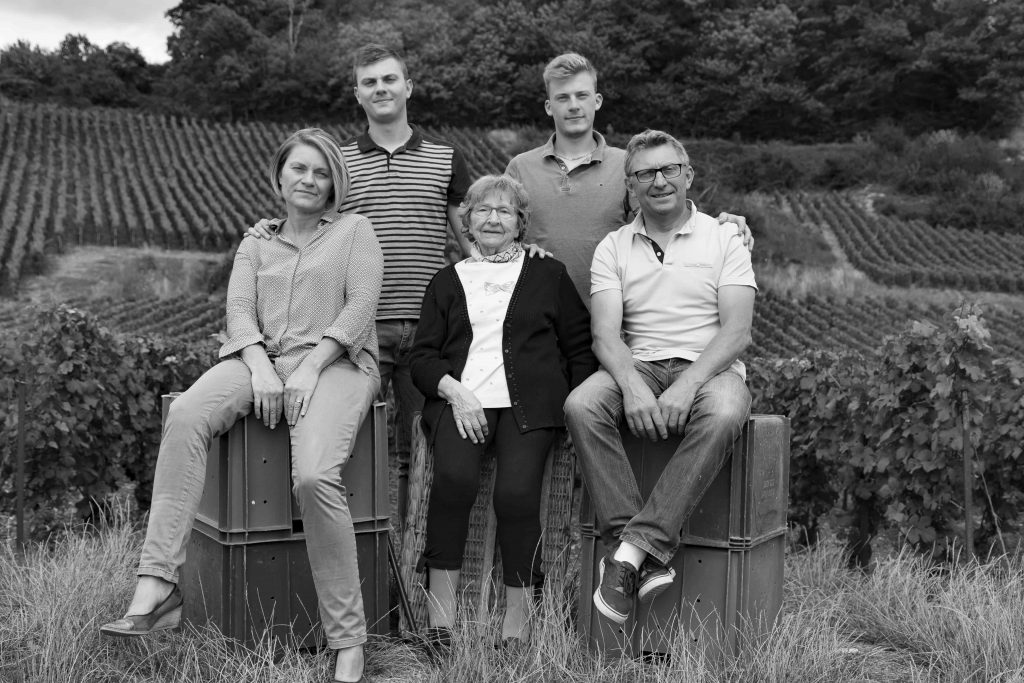 Loann,  Laurence and Christophe's son, currently makes winemaking studies with passion, in order to perpetuating this precious family heritage. His brother, Nathan, has chosen an other professional way.  He follows the evolution of the House with pleasure and he doesn't hesitate to come to the estate to give some help when he can. Both represent the sixth generation of winmakers on the family domain, that has been passed on to heirs for nearly 140 years…
Our parcels

#la Brousse #chemin blanc #trou du renard #neuville #la barrière #la cabane #les varennes #les longtours #la vieille rondeau #la grille
"Our philosophy is working alongside nature, with and for nature ; this is a simple motto, putting it into practice, however is much more demanding…"
We have chosen to grow vines with love and patience in order to harvest the best fruit. Our quest to produce a balanced wine is continued in our cellars, which are far from being neutral spaces, and which are held under a close and loving regard. The wine waits there, reaching its full potential. 
Our 6,5 hectares of vines, located between Le Breuil and Festigny, are formed from 30 or so plots and comprise the astonishing mosaic that is the Christophe Mignon Domain. This patchwork, an accident of history, adds complexity to the wine produced.
We realise all the different tasks in the vines and the vineyard, trimming, pruning, disbudding, tying, trellising… in adequacy with the lunar calendar. Our goal is to maintain a healthy plant, which will be capable of bearing hight quality fruit. Quality that is obtained through deep rooting, in a living well-nourished soil ; and through optimum light exposure, which favours photosynthesis.
WINE MAKING METHODS

#Slow fermentation #no malolactic fermentation #oak tuns
At the optimal moment of maturity, the grapes are harvested by hand and then quickcly squeezes on one of our two presses, with careful monitoring and control.
The winemaking which then follows is undetaken with great care. We still follow the lunar calendar at this stage (choice of dates for tapping, drawing and disgorging)

We limit the use of SO2, and we use natural chilling when moving our wines, following the weather conditions. Our wines are not filtreted and there is no malolactic fermentation.
The second fermentation is then carried out using biodynamic yeasts and organic cane sugar.
A slow fermentation favours the production of small and elegant bubbles. To optimize this process, we carefully control the temperature of the wine, the wine wellar and empty bottles before the wine is drawn.