THE LOGBOOK BY CHRISTOPHE MIGNON
Find here all the news about us from vine to wine, our methods and our daily work ! #MeuniersLovers
We would like to answer you about the estate, so we offer you 6 Q&A, 6 podcasts of 1 minute to learn more about our methods and the estate !
1/ What is the "alternative methods" ?
2/ What is your philosophy on the estate ?
3/ What are the challenges when we work  with single varietal ?
4/ Since when and why did we choose to work with the lunar calendar  ?
5/ Why did we choose to work a Champagne range 100% Meunier ?
6 / What are our sources of inspirations ?
Learn more about the distillation with this video ! The spirit obtained will allow us to fortified some of the grape juice during the harvest, in order to  stopped the alcoholic fermentation… First step to elaborate our "Ratafia Champenois" !
LET'S GO TO la tonnellerie de champagne...
For our last Foudre we really wished to work with a local Artisan, so the Tonnellerie de Champagne was in charge of this achievement ! We have selected local oak from a forest located in Leuvrigny, called Le bois des Roses, because we wanted that the oak come out of the same terroir than our vineyard.

🎥 Look at this video to learn more about this long process…!✨⠀⠀⠀⠀⠀⠀⠀⠀⠀
To the program from the end of winter period to the end of summer : spraying of dynamised rainwater with a compost based on cow dung, in our parcels.
Goals : Boost the microbiologic life, favors  a deep root system with a spirit of verticality.
Disbudding started earlier than usual in 2020, at the end of April 
In spring, disbudding allows us to decrease and to spread the number of grapes. So we have to select the best branches in order to have a good quality result for the next harvest, and then we remove the other branches by hand.
Bottling and secondary fermentation, in order to transform still wine to sparkling wine, hence the name "prise de mousse ", literally "capturing the sparkle". We add the "liqueur de tirage", still Champagne mixed with cane sugar and yeasts. Once filled, the bottles are hermatically sealed with a stopper known as a "bidule", held in place by a wire metal cap. The bottles are then transferred to the cellar and stacked "sur lattes" : horizontally, row upon row. Inside the bottle, the wine undergoes a second fermentation...!
FIRST POLLING OF THE SEASON...
In some of our parcels already trellised, a first polling was carried out with our high-clearance tractor. The goal is to limit the growing on no-fruiting branches, in height and in width. Several passages will be done during summer, by mechanical way, as you could see in this video, but also by hand with a shear…!
On the estate, we use the phytotherapy principle… Indeed, each year we pick some wild plants in order to realize several preparations during all the season, to take care of our vineayrd thanks to the nature. At spring, we pick some nettles, common horsetail and comfrey. Few weeks later, during summer, we pick some burdock and meadowsweet. Each collect is put out to dry naturally, before being used in decoction, infusion ou maceration, in the following months.
In our parcel called "La Brousse", planted with Pinot Noir, green harvesting was necessary, by removing imperfect or unwanted bunches, those remaining can develop more completely. Even if we have done a carefully disbudding in spring.
The "véraison" is the name given to the period when the grapes change colors and start to rippen… Here is our Meuniers !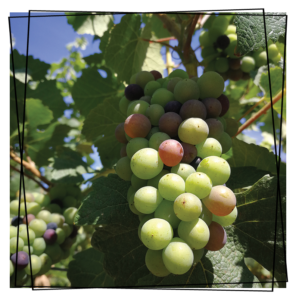 BEFORE THE HARVEST...cleaning up of our grape boxes !
MASTERCLASS AT SACRé bistro IN epernay...
Here is the video  about our Masterclass at Sacré Bistro in Epernay to make you live or relive the best moments of this Meunier and Brut Nature's night !

Thanks to everyone for your presence and for all our talks about our working methods and our Champagne Wines !  🙏 And big thanks to all the Sacré Bistro's team for your welcome and this lovely menu 🍾
MASTERCLASS 🌙 "From the Earth to the Moon" by Christophe Mignon 🥂Champagnes 100% Meunier Brut Nature – Christophe Mignon 🗓️ Jeudi 20 février 2020 📍Sacré Bistro – 2 place Auban Moet 51200 EPERNAY ⠀⠀⠀⠀⠀⠀⠀⠀⠀⠀⠀⠀⠀⠀⠀⠀⠀⠀